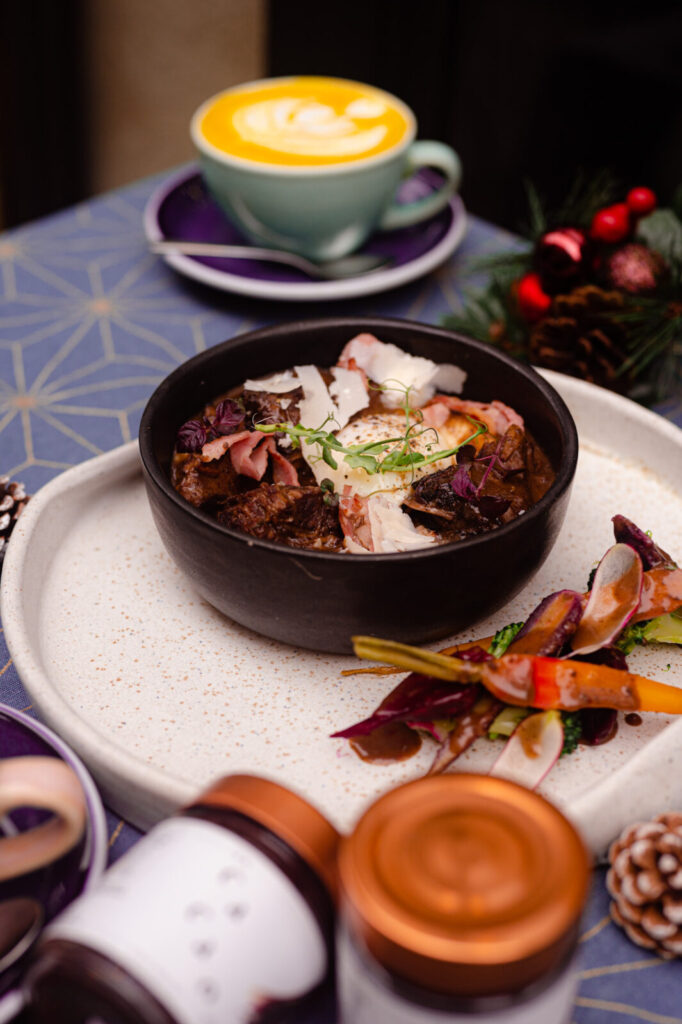 A gourmet and comforting recipe. The recipe for boeuf bourguignon is ideal for winter. You can even prepare it for festive tables at the end of the year! A guaranteed success!
To counterbalance the acidity of the wine, here's a tip from our chef Ryan: add a little Raw Cacao Paste. The Nora and Bird's Eye Chilli version is also great for spicing up our sauce. Your beef bourguignon sauce will be smooth and tasty!
Preparation time: 1 hour
Cooking time: 3 to 4 hours
Recipe for 4 people.
Ingredients:
500g beef cheek
1 orange carrot
1 shallot
1 sprig of thyme
1 clove of garlic
300 ml red Burgundy wine
50g smoked bacon
400g monalisa potatoes
50ml milk
30g butter x 2
salt and pepper
2 cloves
1/2 tsp Spiced Raw Cacao Paste
Wheat flour
Parmesan cheese 18 months
Fresh parsley
Preparation:
Sort the beef cheek by removing the very thick nerves on the outside (keep aside).
Mirepoix the garlic, carrot and shallot.
Dip the beef cheek and the beef trimmings, carrot, shallot, garlic, thyme and cloves into a bowl with the red wine (add pepper but not salt).
Keep this mixture in the fridge for at least 2 days (the longer you marinate, the better the dish will be – you can marinate for up to 6 days).
After the days of marinating, strain the mixture, and separate the beef (its trimmings) and the aromatic garnishes.
Preheat a pan with neutral oil (peanut, sunflower, etc. No olive oil) over high heat. Season the beef generously with salt and then brown both sides in the pan.
Then add the aromatic garnishes to the pan and scrape the bottom of the pan with a spatula to loosen the colouring.
Deglaze with the marinade and bring to the boil
Preheat your oven to 200 degrees.
Pour all the mixture into a deep ovenproof container and cover the surface lightly with wheat flour and bake for 10 minutes.
Mix the mixture and lower the temperature to 160 degrees, leave to cook for at least 3 hours (add water if it starts to dry out).
After cooking, separate the beef from the juices, put the strained juices in a saucepan and reduce for stronger flavours – add 30g of butter and ½ tsp of Spiced Raw Cacao Paste (off the heat) and allow the sauce to thicken then adjust the seasoning.
Brown the bacon in a frying pan.
Serve with fresh parsley and thin slices of parmesan.