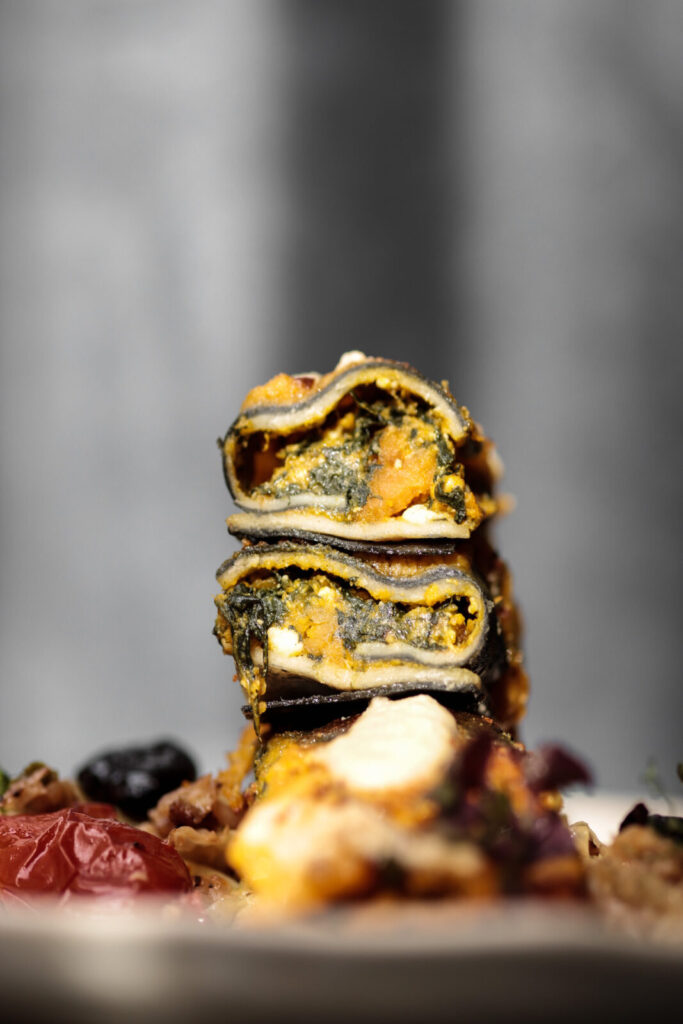 Product La Main Noire used: Black Paste.
Our recipe is also suitable for other Paste.
Ingredients :
For the dough :
– 100 g flour
– 1 egg
– A pinch of salt
– A few drops of water
For the filling (quantity to be adjusted according to your preferences) :
– Spinach
– Chopped roasted hazelnuts
– Buttenut purée
– Ricotta cheese
– Salt and pepper
– Zest of lemon
Preparation:
1. Mix 100g of flour with the egg, a pinch of salt and a few drops of water.
2. Knead for 1 to 2 minutes.
3. Take a small amount of dough and mix it with a bit of Black Paste made of vegetable charcoal and roasted black sesame seeds, previously diluted in a small amount of water.
4. Roll out each paton (piece of dough) independently and then layer them to create the pattern. You may slightly moisten both doughs to help them adhere.
5. Roll out the two doughs together to a thickness of about 2 millimetres.
6. Prepare your filling.
7. Place your filling on the previously rolled out pasta strips and cut into squares.
8. Roll up your cannelloni and set aside in a dish.
9. Cover with a sauce of your choice, in this case a butternut and parmesan cream.
10. Bake for 20 minutes at 200 degrees.
11. Enjoy.