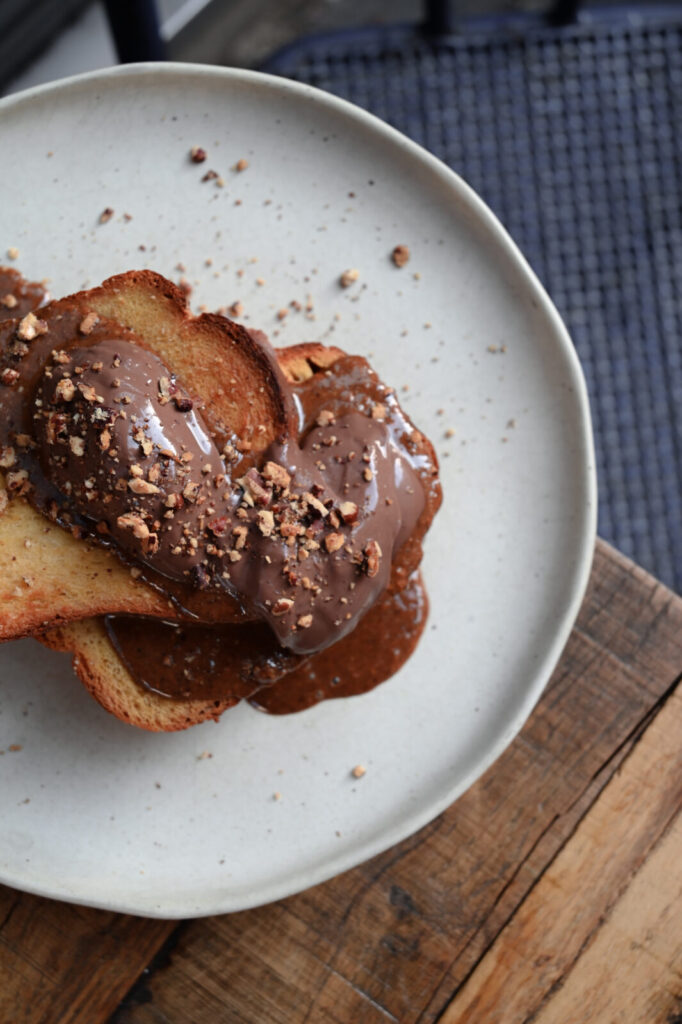 A gourmet recipe! It's time to go through your cupboards and get out the brioches !
Today, we're sharing our delicious pecan praline French toast recipe with a Raw Cacao Paste ganache from La Main Noire.
Recipe for homemade pecan praline :
200g Roasted pecans
200g Sugar
1 Pinch of Flower of salt
Preparation:
Make a caramel with the sugar, mix with the pecans and salt.
Let cool and blend until you get a praline consistency.
Recipe for Raw Cacao Cream :
50g Raw Cacao Paste
100g Milk
100g Cream
2 Egg yolks
50g Sugar
30g Maïzena
Preparation :
Blanch the cornstarch, sugar and egg yolks.
Boil the milk and the cream.
Pour over the previous mixture and mix on low heat until thickened.
Add a sheet of gelatine and mix.  Filter (in contact) and let cool.
French toast recipe :
Slices of brioche
200g milk
2 eggs
Vanilla
15g sugar
Preparation:
Mix everything together and dip the brioche slices in the preparation.
Melt the butter over low heat and brown the buns on both sides.
Arrange the plate with the slices of brioche, the pecan praline and the Raw Cacao cream.